Metal cutting lasers are nothing new. They were introduced into the metal manufacturing industry decades ago and are widely used in metal cutting. However, this does not mean that innovation has ceased. In fact, laser technology is still improving, which has also prompted the continuous improvement of laser cutting capabilities and versatility of machine options and software.
Two long-established tube laser machine manufacturers TRUMPF and the American BLM Group launched new equipment at Tube®, the biennial tube exposition in Dusseldorf, Germany, and other manufacturers have also entered the tube laser market. Sheet metal manufacturing equipment manufacturer LVD has recently produced tubular laser machines, and Bystronic has recently acquired tubular laser machine manufacturer TTM Laser SpA.
Innovation is not limited to machines and the software that runs them. The Internet introduced the concept of information networks to computer users all over the world in the 1990s, but this was not the first network. In this regard, Mazak Optonics may have the most experience. It established a networked factory in 1981, but having said that, other companies have also joined the trend and made progress in the digital revolution, embracing the industry. 4.0.
Hardware progress
Although each model is unique, the laser machines used to cut hollows today usually have something in common, regardless of the manufacturer. Many laser machines have two loaders, one on each side of the machine (see Figure 1). The main loader is used for large bundles of pipes to extend the production cycle; the other loader is used for high-temperature operations, allowing operators to interrupt large operations, manufacture some parts, and then resume original operations.
Another function that is becoming popular is the on-board measurement system. By measuring the workpiece and comparing its dimensions with the cutting program, the software can determine whether the two match. If they do not match (that is, if the operator loads the wrong material), the machine will not try to start cutting. This can avoid wasting materials, wasting time and possibly damaging the machine.
The on-board measurement system can also help the machine handle the inherent dimensional changes of pipes and piping. A little camber is not uncommon, and twisting is also common, usually noticeable in the case of long squares, rectangles, and other shapes. In order to prevent the laser head from hitting the surface of the workpiece, the measurement system determines the amount of bend or twist and adjusts the cutting parameters so that the laser head follows the contour of the actual tube, rather than the contour of the programmed tube. Many machines use additional supports to support the pipes along the length of the pipe bed to compensate for another dimensional problem: sagging.
The choice of resonator, carbon dioxide and optical fiber, also follows a common trend. Although carbon dioxide technology has dominated the metal manufacturing market for decades, this new technology has almost replaced the original technology in the application of thin-wall materials. Fiber lasers are favored for their efficiency, maintenance requirements, versatility, and cutting speed, but the thickness of materials that can be effectively cut is limited.
Andrew Dodd, North American Sales Director of BLM Group USA, said: "We mainly sell fiber machines, but we still sell some CO Thinner, there is no good reason to buy CO2 machines."
Although "bigger" often equals "better" or "faster", the tube laser market does not always follow this rule, especially in terms of power. When cutting pipes or pipes, there is a practical limit to the wattage of the resonator, which is about 4 kilowatts (kW). Beyond this power, the user may damage the far wall after cutting the near wall.
There is a loader on each side of the laser system to help maximize its versatility. This arrangement allows the operator to interrupt a large job and run only a few items without having to unload all the raw materials. Photo courtesy of LVD Co.
Brand, model, etc.
TRUMPF's latest product, TruLaser Tube 7000, can cut pipes and profiles with an outer diameter (OD) of up to 10 inches and a thickness of up to 0.4 inches, and it can make 45-degree bevels. The core of the system is the manufacturer's 4 kW TruDisk 4001 disc laser. According to the company's estimates, the cutting speed of this solid-state light source is increased by 15% compared with traditional CO2 lasers.
The system's software has a PierceLine function that speeds up the piercing process to start cutting faster, and its RapidCut function links the movement of the laser head to the movement of the tube axis, which the company claims can increase the dynamic performance of the machine by a factor of four.
The feeding system can accept up to 6 tons of raw materials. When the tube is loaded, the sensor system monitors the fixture to verify that it has been adjusted to the workpiece geometry. The sensor also monitors the unloading process to ensure that the parts are correctly sorted.
BLM's latest product, LT7, has a 3 kW fiber laser that can handle round tubes with an outer diameter of up to 6 inches, and has similar dimensions such as square, rectangle and contour. The two automatic functions of active perforation and active speed optimize the cutting process, while active focus maintains the best focus on thick materials. According to BLM, these functions can jointly determine the optimal cutting speed and other parameters, thereby shortening cycle time and making the machine more productive. It also has Active Tilt, which is a combination of software and hardware that can optimize the cutting process of small features (see Figure 2).
Mazak's tubular laser machines include Space Gear 510 Mk II, a combination machine that can cut 5 by 10 feet of sheet metal); round, rectangular, and triangular tubes; and C, H, I, and C, H, I, and 6.0 inches in diameter L-shaped steel. It uses a 5-axis torch with a rotation of ±360 degrees on the A axis and a tilt of ±135 degrees on the B axis. It is powered by a 2.5 or 4 kW laser source. The company's 3D Fabri Gear 400 III also offers 2.5 or 4 kW resonators, which can also handle a variety of shapes, using four chucks to accommodate workpieces up to 26.25 ft and up to 16 in.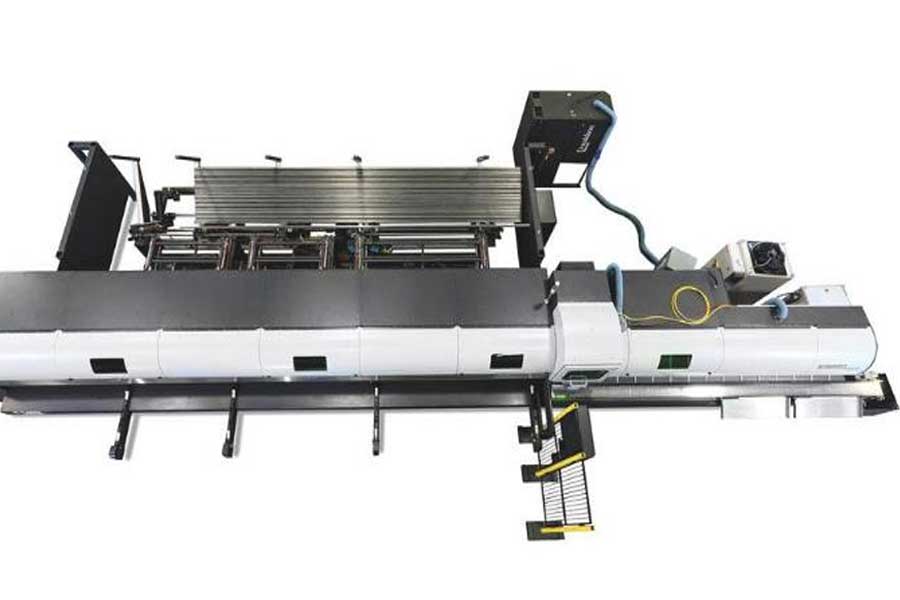 Its Versatile Compact Laser-Tube 100 (VCL-T100) is suitable for small batch production and can handle round (1 to 3 inch square) tubes and bars from 1 to 4 inches in length up to 12 feet (24 feet optional) ). Equipped with a 2 kW laser, it can cut mild steel up to 0.250 inches thick.
LVD's tube laser models-TL 2450-FL and TL 2665-FL can cut outside diameters of 0.375 to 5 inches and 0.75 to 6.5 inches, respectively. They are equipped with multifunctional chucks and software that enable the machine to handle almost all cross-sections, and all use fiber laser technology. Its software CADMAN-T can import two-dimensional and three-dimensional drawings, allowing programmers to design various features, specify end cuts, and copy repeated features when necessary.
TTM Laser SpA was established in 2000. As long as many other industrial laser manufacturers have established a foothold in the metal processing market, TTM Laser SpA is a relatively new company. The company has found a market in providing a combination of functions designed to attract service centers and workshops.
All of the company's tube cutting lasers have 3-D cutting capabilities. TTM North America sales manager Davide Rebessi said that its smallest diameter machine FL-170 can handle diameters of 0.5 to 6.6 inches; at the other end of the spectrum, its FL-800 can handle diameters of 5.9 to 32 inches, which is provided by all manufacturers The maximum range.
The feeding and discharging unit can handle unusual lengths. The feeding system of the FL-300 type can accept lengths up to 41 feet; the discharge device can handle lengths up to 40 feet. Its higher capacity machines, FL-400, -600 and -800, and its feed and discharge devices can handle lengths of up to 59 feet.
The company also attaches great importance to the logistics involved in optimizing the time of the bridge. For example, a custom machine tool developed by the company uses two sets of chucks to reduce the time required for loading, measuring, and unloading the workpiece. The first pair of chucks is used for loading, measuring and about half of the cutting. Then, the machine transfers the tube to another pair of chucks for the remaining cuts, and the first pair of chucks starts processing the next piece of incoming material. This increases the cycle time by 35% to 40%
TTM is not the only laser manufacturer looking for a unique market segment. The niche manufacturer 3D Fab Light has found some space in the field of small batches and prototyping. Its machine is so small that it does not require special foundations or rig personnel to install it. The company's pipe machine can handle round and square pipes with a diameter of 0.5 to 2 inches and lengths up to 50 inches. The company's pipe machine can handle round and square pipes with diameters ranging from 0.5 to 2 inches and lengths up to 50 inches (optionally extended to handle 120-inch long parts). The company does not provide loaders, unloaders, nor too many fancy things, but the biggest advantage is that the cost of its machines is lower than that of some high-end luxury cars.
Laser 4.0
It may be a bit bold to say that cutting is the core of manufacturing, but in fact it is not far away; in most cases, cutting is the first step in a series of processes to send orders to the shipping dock. Optimize the cutting process and, more importantly, synchronize other activities to maximize throughput.
Collecting and analyzing workshop data, and a large amount of data, can help manufacturers identify and eliminate bottlenecks and increase the speed of the workshop. This concept has many names: digitization, big data, internet of things and industry 4.0.
Matt Fowles, marketing manager of LVD, said: "LVD has already implemented the principles of Industry 4.0 before Industry 4.0 has a name. LVD was established in 1952 and used in sheet metal manufacturing machinery such as lasers, stamping machines, and bending machines. Has extensive expertise. Although pipe manufacturing and sheet metal manufacturing have little in common, the principles and applications of Industry 4.0 are as important as pipes and flat products."
On the whole, the flow of data leads to the flow of parts. The order initiates the data flow, which is supplemented by data generated by the machines in the workshop; capturing and using these data is the essence of Industry 4.0.
When researching manufacturers using traditional order entry systems and traditional manufacturing processes, LVD benchmarked an order that took 34 days to process. It takes about five days from the time the customer places the order to the time the order is entered. It takes two days to make the order; 9 days for the assembly; 8 days for quality control inspection, packaging and transportation.
When measuring the specific steps of order entry and actual machine time, LVD determined that only 2.4% of the time was production time and the rest was idle. The actual time spent on order entry is only 3 hours, manufacturing orders takes 12 hours, assembly takes 2.5 hours, and the last three steps take 2 hours.
It may be impossible to squeeze out every minute of free time, but this example illustrates the possibility. To complete this order within 19.5 hours, an Industry 4.0 path is needed. It works by generating a continuous stream of data, compiling that information, analyzing it, and using it to take steps to improve the part flow. A side benefit is that it can also reduce waste.
Although LVD's focus is on improving sheet metal efficiency (nesting as many parts as possible on each sheet metal, and then optimizing the process of the entire workshop), it proves the possibility of pipe manufacturing.
Kurt Debbaut, product manager for LVD's CADMAN software suite, said: "The first challenge is to process multiple orders at the same time." The system must nest parts to fill panels or parts of panels as efficiently as possible. It is beneficial to wait for additional orders, so that the software can use more parts, resulting in tighter nesting and less waste. "The disadvantage is the second challenge: sacrificing time to save some materials. Mixing parts from multiple orders on a single material means that accurate parts classification must be performed. This is the third challenge.
Many equipment manufacturers provide software to solve these and other problems, and input data into the company's enterprise resource planning (ERP) system in order to effectively use this information.
In the case of LVD, the company's CADMAN-SDI uses a small number of part parameters to calculate the cost of work. Another program, CADMAN-JOB, calculates the process time, determines the best part flow, and creates a plan. It can also verify whether the necessary tools are in the tool library. Another product, Touch i4, classifies the parts coming off the machine and improves it by using a vision system that can identify defects. It separates any defective parts and issues a replacement order on the next plate that passes through the system.
When these programs have enough information to start making more complex decisions, it becomes very interesting. For example, in order to manufacture an assembly, LVD's software will appropriately schedule the parts so that the parts that are needed first are manufactured first. The inner parts are manufactured before the outer parts, so the assembler will get them in the correct order. In addition, in order to prevent the waste of materials, the typesetting software uses every plate as much as possible. If it finds that there is some remaining space on an order, it will add commonly used order parts to the nest and allocate these additional parts to future orders.
BLM's point of view is that machine operators do more than just recall procedures and load raw materials.
Dodd of BLM Company said: "The operator is the material manager." The company's ProTube software is a monitoring system that can partially help the material manager understand the management of materials. It can help users make accurate time and cost estimates based on the processing time of the entire production run. It also prepares work orders and sends them to the machine, while the remote management function provides real-time production progress monitoring, system operation statistics, and estimates for the next batch change. It can be integrated into the ERP system to automatically assign work orders to all connected BLM machines.
Although TTM is a relatively new company with a small number of employees, it has developed machine software that interfaces with the MRP system and assists in Industry 4.0 work.
TTM sold two machines to Liebherr, one for pipes and one for flat products. The material handling, mining and construction machinery manufacturer needed a cutting system to send parts into the production line for sandblasting and then robotic welding. TTM did not have extensive experience in Industry 4.0. The company began to develop a system to integrate all the hardware on the production line. The cutting machine is the core of this system.
Go digital
It looks good to digitize all available information and send it over the network, but will it work? In short, yes. On September 12, 2017, TRUMPF opened a factory in the Chicago area to demonstrate how digital technology can provide interconnection for every machine in the workshop and thus for every process.
Of course, the first few steps involve preparations, but even these illustrate the comprehensive functions of digital technology: import part files, enter this information into the ERP program, and finally determine the part modeling. The next few steps will go a little deeper-create work orders, develop process descriptions, nest parts, request materials, and arrange orders. So far, there have not been any sports activities, but the system has completed a lot of work, compressing several hours of traditional work in a few minutes.
When the work order pops up in the processing queue, you will not see workers retrieving materials from inventory. Self-service shopping carts come to life, traversing the workshop, and parked in a position where they can be automatically unloaded to start the manufacturing process.
From there, cutting, punching and bending are required. Parts are moved from one place to another and can be processed almost without manual intervention. Stackers and robots play a considerable role in lifting and placing.
The marking strategy (marking each part with a QR code) can eliminate paper. In TRUMPF's factory, the order status can be called up at various monitoring points throughout the building. Anyone who can access Wi-Fi signals anywhere in the world can log in to the system to check the status of the order. If you can imagine having customers check the status of orders in the store, then you can imagine how much digitalization can bring about customer relationships.
Mazak's modern connection technology is iSMART Factory™, which debuted at its factory in Oguchi, Japan, and is used in its factory in Florence, Kentucky. The communication protocol it uses, MTConnect®, allows the company to monitor all activities on the network. Factory floor (machines, units and equipment), and collect data from them to enhance decision-making capabilities.
Mazak also offers SmartBox, which provides a secure data path from the machine to the management system via MTConnect. It is designed to prevent unauthorized network access and is not limited to interface with any specific company's machine or any specific software. According to Mazak, SmartBox is an open standard that can monitor data from any machine regardless of its brand, model or age, and it supports third-party analysis software platforms to collect data.
Of course, when machining sheet metal parts instead of tubular parts, the automation solution is easier. The raw materials are stacked well, while luxury steel pipe manufacturers do not, and the finished parts are usually easier to handle. During processing, tubular workpieces usually require a specific direction so that each feature is finally bent and end-shaped in the correct position relative to the other features. They may also need to apply lubricant before bending and remove the lubricant before welding.
Automating tasks like this can be difficult, but it takes a long way. There are various technologies that can solve most common problems and help realize the automation that comes with Industry 4.0.
The right direction usually requires weld detection, and sensor technology continues to improve. After the seam is detected, a small mark or an inconspicuous hole may be sufficient to provide a direction reference for subsequent machines. For pipe processing, modern robots are dexterous, and the vision system is constantly improving, which can help them quickly pick and place workpieces. As far as lubrication is concerned, the amount metered in from the atomization system or micro applicator may be sufficient, and certain chemicals these days will not interfere with subsequent welding.
Bundling all loose ends to make Industry 4.0 successful in the pipeline will not happen immediately, but it will happen. It is only a matter of time.
24/7 digital manufacturing
Carel van Sorgen, LVD customer and founder of Varsseveld 24/7 Tailor Steel in the Netherlands, is engaged in metal manufacturing and is no stranger to using software to solve manufacturing problems. As the owner of the first metal processing laser machine installed in Europe in 1978, he has seen tremendous changes in software functions and has considered using software, hardware and concepts to form the basis of Industry 4.0 over the years. Simplify the manufacturing process from order to shipment.
He started his latest business in 2007 when he bought enough equipment to start a new business. In 2008, the company received its first order at a price of 348 euros; in 2009, its revenue was 5 million euros, and by 2016, its sales exceeded 50 million euros. Although the company deals with sheet metal rather than tubes, it once again illustrates the power of Industry 4.0 and the future of tube and tube manufacturing.
Every day's work is a feat of logistics. 24/7 Tailor Steel has 22 lasers and 6 bending machines in its two factories. The company receives an average of 120 tons of steel per day, and almost all of the steel is shipped the next day to pave the way for the next day's shipment: an additional 120 tons of steel. It does this because it gets more than 15 new customers every day, but it does not have a traditional sales force, estimator, and scheduler. It uses very powerful software.
Customers use the proprietary web-based platform SOPHIA (SOPHisticated Intelligent Analyzer) to upload CAD drawings and make some choices-material grade, thickness, quantity, delivery date and acceptance of early delivery. The bid will usually be returned within a few minutes, and when the customer accepts the quotation, the job will enter the nesting queue for nesting.
If the file contains multiple items or assemblies, the software will split the order into separate components, which allows the nesting software to have more geometric shapes and can be used on more drawings.
Van Saugen said: "Most manufacturers waste about 32% to 33% of their plates." The software used by 24/7 Tailor Steel and a wide range of software can reduce this to about 30%.
The thin plates are moved to each cutting station by automated guided vehicles (AGV), which ride on the paths of magnets arranged a few yards apart. The combination of magnet and software can keep the AGV on the correct path, maneuver around other AGVs, and deliver the material to the correct laser at the correct time.
Workers do not use lasers in the traditional sense. Instead, they manage the process to ensure that the right materials are loaded at the right time, parts are retrieved, and the process is observed to ensure that the quality of the cut is maintained. If the parts only need to be cut, employees can put them in a box or envelope, and prepare and prepare a mailing label or delivery note.
If the part needs to be bent, move it to one of the six LVD ToolCell bending machines with automatic tool conversion in the forming area. The operator scans the job, and ToolCell takes over the job, replacing the punch and die when it is ready to be loaded for bending. After performing 3-D bending simulation on the controller, the operator can bend. New employees can almost bend down as quickly as veterans.
SOPHIA has done a lot of work behind the scenes, performing technical and logistics functions. It analyzes each new order to confirm that it can be manufactured on a bending machine without tool interference or other forming problems; it compares repeated orders to ensure that they are indeed repeated orders, and verifies that the dimensions or features have not changed; and it Run various transportation programs and combine repeated orders to reduce transportation costs.
Link to this article: The advancement of laser cutting pipe technology points the way for the future
Reprint Statement: If there are no special instructions, all articles on this site are original. Please indicate the source for reprinting:https://www.cncmachiningptj.com/,thanks!
---
3, 4 and 5-axis precision CNC machining services for aluminum machining, beryllium, carbon steel, magnesium, titanium machining, Inconel, platinum, superalloy, acetal, polycarbonate, fiberglass, graphite and wood. Capable of machining parts up to 98 in. turning dia. and +/-0.001 in. straightness tolerance. Processes include milling, turning, drilling, boring, threading, tapping, forming, knurling, counterboring, countersinking, reaming and laser cutting. Secondary services such as assembly, centerless grinding, heat treating, plating and welding. Prototype and low to high volume production offered with maximum 50,000 units. Suitable for fluid power, pneumatics, hydraulics and valve applications. Serves the aerospace, aircraft, military, medical and defense industries.PTJ will strategize with you to provide the most cost-effective services to help you reach your target,Welcome to Contact us (

[email protected]

) directly for your new project.