Large-scale CNC gantry milling machining is a common machining method for large-scale hardware. When performing large-scale CNC gantry milling machining, we should not only understand the safety production precautions of large-scale CNC gantry milling operators and the equipment characteristics of large-scale CNC gantry milling machining, but also To understand the solutions to some common faults in large-scale CNC gantry milling.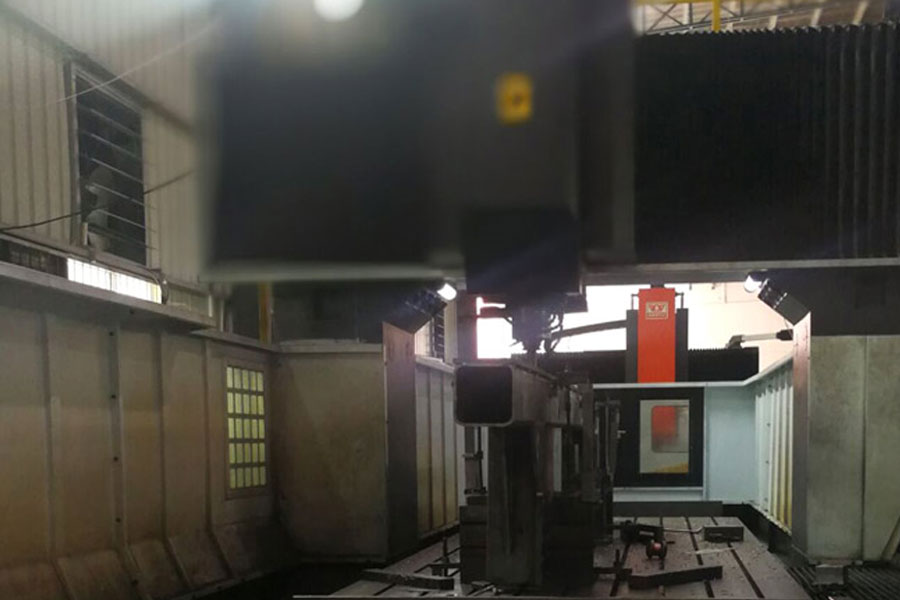 Common fault one: The machining surface is not flat at the tool connection.
Solution: Check the parallelism of the worktable, the parallelism of the main axis relative to the worktable, and the verticality of the lifting table relative to the worktable.
Common fault 2: The operating handle of the main shaft gearbox falls off automatically.
Solution: Replace the spring or add a gasket.
Common fault 3: The operating handle of the main shaft gearbox cannot be operated.
Solution:
1. The vertical shaft handle and the hole connection are stuck, remove and repair;
2. The sector gear and the clip are stuck, adjust the gap to about 0.15mm;
3. The shift fork shaft is bent and deformed and straightened;
4. The rack shaft deviates from the hole on the hole cover, changes the speed of other levels, moves the speed change plate, and adjusts the positioner spring.
Common fault 4: Abnormal machining accuracy
Solution:
1. Confirm that the feed unit of the large-scale CNC gantry milling machine has not been changed;
2. Confirm that the zero offset of each axis is normal;
3. Confirm that the axial backlash is normal;
4. Confirm that the motor is running normally;
5. Confirm whether the parts such as the lead screw, bearing, shaft coupling and so on are normal.
The above four are the solutions to common failures in large-scale CNC gantry milling. Knowing these can find the cause of the failure more quickly and can quickly solve it.
Link to this article: Solutions To Common Failures In Large-Scale CNC Gantry Milling
Reprint Statement: If there are no special instructions, all articles on this site are original. Please indicate the source for reprinting:https://www.cncmachiningptj.com/
---
Sheet metal, Copper Milling, carbon steel,online laser cutting service, 3D printing, precision CNC machining services for heavy equipment, construction, agriculture and hydraulic industries. Suitable for plastics and rare alloys machining. It can turn parts up to 15.7 inches in diameter. Processes include swiss machining,broaching, turning, milling, boring and threading. It also provides metal polishing, painting, surface grinding and shaft straightening services. The production range(include aluminum die casting and zinc die casting) is up to 50,000 pieces. Suitable for screw, coupling, bearing, pump, gearbox housing, drum dryer and rotary feed valve applications.PTJ will strategize with you to provide the most cost-effective services to help you reach your target,Welcome to Contact us (

[email protected]

) directly for your new project.