The dust produced in the grinding process is potentially dangerous, and it may cause people to slip and fall, and it may also cause combustible metal dust to catch fire and explode. To avoid this, metal manufacturers should research equipment to prevent dust-related disasters.
Even if you have never caused a fire in a factory due to combustible metal dust, are you fully aware of the dangers and losses that may be involved in such incidents?
It doesn't take much to ignite combustible metal dust. Regardless of the type, dust on the floor, equipment, pipes, surfaces, parts and raw materials is a safety hazard.
Unfortunately, despite the frequent occurrence of combustible metal dust fires and explosions, it is not difficult to solve the industrial safety problems that need to be solved.
Explosion occurred
In one case, workers in a factory in Southern California were using hand tools to polish aluminum rims. Although workers wear N95 masks, there is no ventilation or dust collection system in the workshop. Aluminum dust is actually permeated in the air, covering the face and clothes. After years of accumulation, the company suffered an aluminum dust explosion, which caused several workers to be injured and severely burned.
At another company, a worker used a shop vacuum cleaner to suck up a little water on Friday afternoon to remove aluminum dust. The worker came on Monday morning, opened the chimney of the shop, and it exploded. The mixture of water and aluminum dust produces hydrogen. Sparks from turning on the motor caused an explosion.
These are just two specific examples. There are many flammable metal dust fires that occur every day around the world. They have not been reported because they can be controlled and extinguished without the presence of the local fire department.
In fact, any dust under the right conditions can ignite and may explode. Different types of dust require different housekeeping procedures, dust collection equipment, storage and treatment methods. For example, combustible metal dust (such as aluminum, magnesium, and titanium) and wood dust require different dust collection equipment, fire extinguishing agents, and room cleaning procedures and regulations, but both are highly flammable.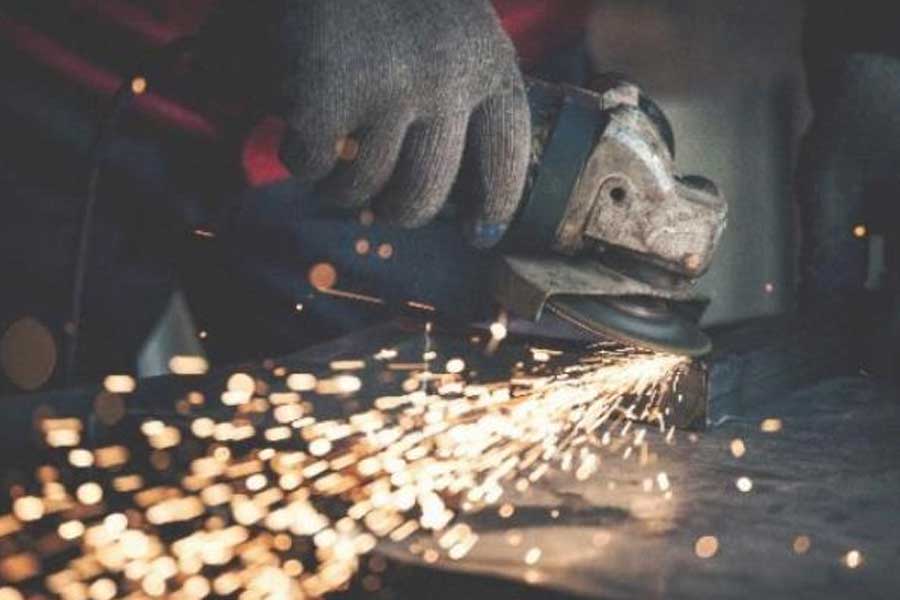 "We use a wet dust collector in the granulation operation. We use a separate independent dust removal system to clearly mark and color both iron and non-ferrous metal materials. In addition, we also use a downward air flow table for grinding. Shaving and deburring operations," said Tony Varela of Metal Fab Inc., Portland, Oregon. .
With the emergence of new manufacturing technologies, the challenge of reducing dust has also followed. 3D printing often uses power metals, such as aluminum, titanium and magnesium, which raises the handling, collection and safety of combustible metal dust to a whole new level, which is already a very complex subject.
Wet downward suction table is a method to capture combustible metal dust.
This wet downdraft workbench from AT Industrial Products is an example of a device that can collect combustible metal dust generated by activities such as deburring, cutting, and grinding.
Now, these growing dangers are being addressed. Starting from September 2020, facilities are encouraged to conduct Dust Hazard Analysis (DHA) in accordance with Chapter 7 of NFPA 652 (Basic Principles of Combustible Dust). In fact, the possibility of an insurance company making a claim against a store that does not have NFPA standards is greatly reduced.
DHA recognizes the potential fire and explosion characteristics of dust in stores. Various dusts from various metals and substrates should be ground, polished, polished, cut and sawed, and then tested.
Trade organizations such as the Chemical Safety Commission and OHSA can be useful resources for safety procedures and worker training guidelines. You can hire industry consultants to specialize in all matters related to combustible dust. Industry leaders and experts provide virtual conferences, podcasts and You Tube videos that deal with combustible dust safety, worker training and equipment.
Finally, the release of the latest NFPA 652 (Basic Standard for Combustible Dust) and NFPA 484 (Standard for Combustible Metals) ensures that all employees have the opportunity to read and familiarize themselves with the requirements of the standard. These standards are updated every few years to reflect new technologies, new requirements, and are valuable guidelines that are readily available.
How much does it cost?
What is the cost of reducing combustible dust, including the tests and equipment required to meet these standards? The price of the equipment ranges from USD 3,000 for small industrial vacs to thousands of USD for large wet dust collectors, central vacuum systems, wet down exhaust tables and wet dust rooms.
But keep in mind the potential costs of non-compliance:
1. What is the liability fee for work-related injuries?
2. Will any harm temporarily or permanently replace precious workers?
3. What is the cost of equipment lost by fire or explosion?
4. What is the production cost lost by the customer?
5. Will the insurance company bear all the losses?
6. Will the insurance premium rate increase?
There is no time to take the right measures to meet the challenge of combustible metal dust. It is not necessary to complete all the work immediately, all efforts to mitigate risks can improve the safety of the factory and its employees.
Link to this article: How can the processing workshop prevent the threat of combustible metal dust explosion?
Reprint Statement: If there are no special instructions, all articles on this site are original. Please indicate the source for reprinting:https://www.cncmachiningptj.com/,thanks!
---
Sheet metal, beryllium, carbon steel, magnesium, 3D printing, precision CNC machining services for heavy equipment, construction, agriculture and hydraulic industries. Suitable for plastics and rare alloys machining. It can turn parts up to 15.7 inches in diameter. Processes include swiss machining,broaching, turning, milling, boring and threading. It also provides metal polishing, painting, surface grinding and shaft straightening services. The production range is up to 50,000 pieces. Suitable for screw, coupling, bearing, pump, gearbox housing, drum dryer and rotary feed valve applications.PTJ will strategize with you to provide the most cost-effective services to help you reach your target,Welcome to Contact us (

[email protected]

) directly for your new project.