The National Research Institute has developed a 3D printing technology that can create a thermoelectric module about the size of a small pea. Micro thermoelectric generator sets are very affordable and can be used in small equipment. A thermoelectric generator is a solid-state device that can directly convert heat flux (temperature difference) into electrical energy, and can collect the lost thermal energy to generate electricity.
Thermoelectric modules are mainly used in extreme environments to power micro-sensors and other devices that require very little power. Thermoelectric devices can also effectively cool ultra-small electrical devices in confined spaces because they cool the connected devices during the thermoelectric conversion process. Generally, the thermoelectric module adopts the shape of filament or sandwich plate to increase the surface area and maximize its power generation capacity.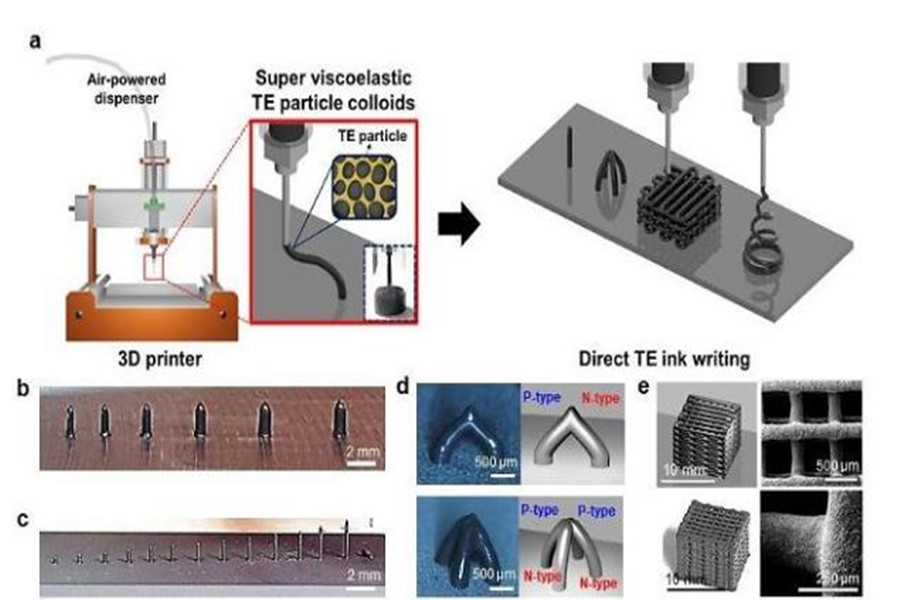 The power plants we see in our lives are some large hydropower plants, nuclear power plants, and windmills for generating electricity by the sea, but have you ever seen a new type of bio-generator? This gadget can turn your body into a biological battery, which means that pacemakers, drug delivery pumps and other implantable medical devices can use new renewable energy sources.
Ulsan National Institute of Science and Technology (UNIST) stated in a statement on September 1 that its researchers have developed a technology that can use a special 3D direct ink writing method to produce thermoelectric microstructures, which allows the use of Special filaments create fine microstructures.
The 3D printing method uses a special high-viscosity thermoelectric ink, which is a composite of thermoelectric material particles. The researchers found that the correct particle distribution rate can maximize the high viscosity of the ink. Using this ink, researchers were able to create a miniature thermoelectric power generation device with a power generation capacity of 479 microwatts per square centimeter.
Using the newly developed technology, we can produce affordable 3D-shaped micro-thermoelectric power generation modules, UNIST researcher Sohn Jae-sung was quoted as saying. 3D printing technology can use filaments stacked like buildings to create larger modules.
Link to this article: 3D printed micro thermoelectric generator to maximize the collection of lost heat energy
Reprint Statement: If there are no special instructions, all articles on this site are original. Please indicate the source for reprinting:https://www.cncmachiningptj.com/,thanks!
---
PTJ® provides a full range of Custom Precision cnc machining china services.ISO 9001:2015 &AS-9100 certified. 3, 4 and 5-axis rapid precision CNC machining services including milling, sheet metal to customer specifications,Capable of metal & plastic machined parts with +/-0.005 mm tolerance.Secondary services include CNC and conventional grinding, laser cutting,drilling,die casting,sheet metal and stamping.Providing prototypes, full production runs, technical support and full inspection.Serves the automotive, aerospace, mold&fixture,led lighting,medical,bicycle, and consumer electronics industries. On-time delivery.Tell us a little about your project's budget and expected delivery time. We will strategize with you to provide the most cost-effective services to help you reach your target,Welcome to Contact us (

[email protected]

) directly for your new project.